This is donator content! It is dedicated to: Gameraiders101
Snow Monger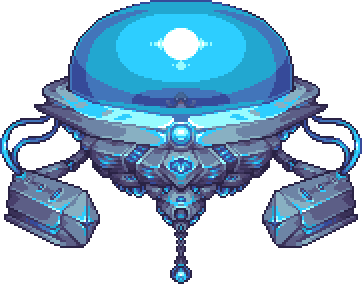 Item (Quantity)Rate
One of the following 4 items will always be dropped

25%

25%

25%

25%

Greater Healing Potion

(5-15)

100%
The Snow Monger is a miniboss that spawns during the Frost Legion event. It drops 4 items that can be beneficial to the player in early Hardmode, when the Frost Legion is first accessible.
Behavior
[
]
The Snow Monger attacks on a 10.8 second loop, and it will never deviate from it. When not in its lunging attack, it does not deal any contact damage.
Attacks
[
]
Flies towards a spot directly above the player for the first half of its attack loop, firing 4 pairs of Ice Bolts. It moves faster if the player is farther away.
Quickly moves above the player, then stops in place and rapidly fires 3 Icy Beams straight downwards from its tail.

This attack is very similar to the Martian Saucer Deathray, and similar to the Saucer in 1.4, the attack will penetrate through blocks.

Roars and lunges at the player in an attempt to deal contact damage.
Notes
[
]
Killing a Snow Monger progresses the event by the equivalent of killing 10 normal enemies.
Unlike the other Frost Legion enemies, Snow Mongers do not drop any money upon death.
Trivia
[
]
In previous versions of the mod, there was a snowman piloting the Snow Monger.
The penguin piloting the Snow Monger was likely a reference to the Dreadwing, a boss from Starbound
History
[
]
1.4.2.0:

Reworked AI and resprited.
No longer deals contact damage.
Increased max life from 4,500 / 9,000 to 5,600 / 11,200.

1.1.2: Introduced a map icon.
1.1: Introduced.

Pre-Hardmode Enemies •

Hardmode Enemies •

Event Enemies •
Bosses

Critters •

Friendly NPCs