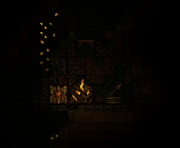 Briar Huts are structures generated at world creation found commonly throughout the underground Briar. Each hut contains one or more of the following:
All Briar Huts in a world are composed mostly of Blast Stone, and some will also have leaves and Elderbark blocks around the edges. Most Briar Huts generate embedded into the terrain, and will have a two-wide platform entrance on the top if generated in the floor. Huts generated in the ceiling or walls will not have a platform entrance, and the player will have to dig their way inside with a pickaxe. The Adventurer NPC will also be found tied up in a Briar Hut.
All of the Briar Hut's rare items can also be obtained from Thorny Crates, which can be fished in the Briar Biome.
Loot
[
]
This content is transcribed from Briar Chest#Loot.
Each Briar Chest will always generate with a primary item in the first slot and eight types of common items. Each secondary item has a 25% chance of generating in the second slot.
Secondary items
Item
Quantity
Chance
Glade Wreath
1
1/4 (25%)

Notes on the Briar

1
1/4 (25%)

Flora of the Briar

1
1/4 (25%)

Common Items
Item
Quantity
Chance
Copper Bar

Tin Bar

Iron Bar

Lead Bar

3–10
100%
Wooden Arrow

Shuriken

20–50
100%
Swiftness Potion
2–4
100%
Recall Potion
1–3
100%
Herb Bag

Grenade

1–4
100%
Bottle

Torch

1–4
100%
Bismite Crystal

Old Leather

2–6
100%
Silver Coin
12–30
100%
Notes
[
]
Briar Huts that generate without Wildwood Altars may be hard to find, since they will have no light source.
Some Briar Huts may generate with nothing useful (i.e. only a statue).
History
[
]